David Raft Fellowship for Psychoanalytic Education
Created through a generous gift from Elizabeth Raft, MD, the David Raft Fellowship is awarded periodically to a clinician enrolled in, or planning to enroll in, the training programs or continuing education courses of the Psychoanalytic Center of the Carolinas (PCC). The David Raft Fellowship provides up to $1,250 towards training expenses for the upcoming academic year. These funds may be applied to tuition, training program fees, and/or membership dues. The scholarship can be used for up to two consecutive years if the award is not exhausted in the first year.
Raft Fellowship Details
The application period closed on May 1, 2023.
The Psychoanalytic Center of the Carolinas does not discriminate on the basis of age, race, color, gender, gender identity, marital status, religion, sexual orientation or identification, or national and ethnic origin in the administration of its educational policies, admissions policies, and financial aid policies.
About David Raft, MD (1930 – 1985)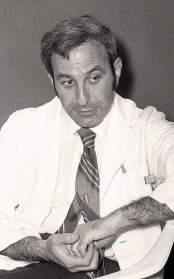 Dr. David Raft, a psychiatrist and psychoanalyst, was a committed researcher, clinician, and teacher. As an Associate Professor in the University of North Carolina School of Medicine Department of Psychiatry, he taught on the consult/liaison service. He also taught and supervised the psychoanalysis training program of the PCC (then known as the UNC-Duke Psychoanalytic Education Program).
Equally comfortable with internal medicine, psychopharmacology, and psychoanalysis, or a combination of those, he could and would respond to emergencies with the same generosity and excellence he showed in providing psychoanalytic supervision. Dr. Raft wrote on diverse topics including depression in medical patients, anorexia nervosa, sexual problems, psychopharmacological prescribing by non-psychiatrists, somatization, and therapeutic abortion.
Dr. Raft's real love was teaching, supervising, and conducting psychoanalysis and psychoanalytic psychotherapy. Those he supervised and mentored remember him as a dedicated teacher of the craft. The Raft Fellowship will provide financial support in order to share his professional values with new generations of students of psychoanalysis and psychotherapy.
Donate to the PCC
The Psychoanalytic Center of the Carolinas strives to promote emotional resilience by understanding the mind through psychoanalytic education, practice, and service. Support the mission of the PCC, a 501(c)(3) charitable organization.
Read the Blog